Ted Owen & Co specialises in the brokerage of some of the world's most unique and eclectic music related collectables. We strive to both source and broker items of genuine distinction and historical music culture from the 1940's to the present day.
George Harrison & George Formby Owned/Played Banjo
Ted Owen & Co are proud to offer this John E. Dallas 'Special Model E ' banjolele Serial No 1169, that was lovingly owned and played by George Harrison. Harrison purchased this particular banjo as it famously belonged to and was played by George Formby. Formby was presented this specially made instrument in the 1930's and used it till his death in March 1961. Harrison would later offer the Banjolele back to the Formby Family/Estate and it was later exhibited at 'The Beatles Story, Liverpool' between 2008 to 2015. Complete with comprehensive history and documentation. The extensive provenance includes signed documents from both George Harrison and The George Formby Society instrument details-John E. Dallas 'Special Model E ' Serial No 1169 engraved pearl inlays and gold-plated metal parts. Hand made and unique for George Formby
For enquiries or further information please contact a member of our team- info@tedowenandco.com or Ted Owen on +447900 825 898
Offers in the region of £90,000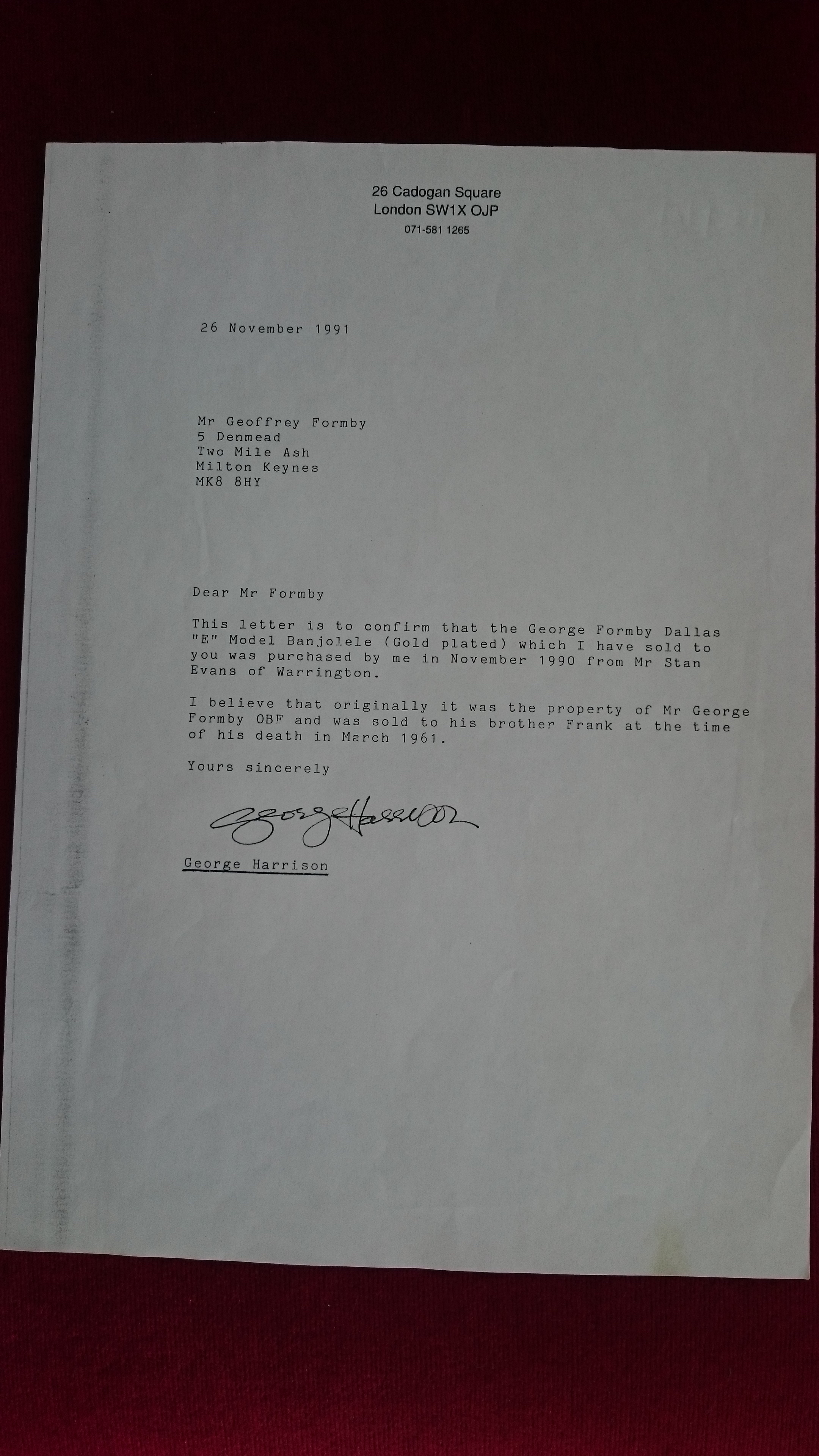 Jimi Hendrix- Jimi Plays Berkeley Master Tapes
An offer are two original master tapes of Jimi Hendrix' performance at Berkeley Community Theatre on May 1970. These tapes, believed to contain raw un-edited footage of the performace(s) as apposed to the very much edited released version. The master tapes originate from the offices of Alan Douglas and Daniel Secunda
For enquiries or further information please contact a member of our team- info@tedowenandco.com or Ted Owen on +447900 825 898
Offers in the region of £20,000
JIMI HENDRIX CONCERTS COLLECTION
An incredible Jimi Hendrix collection of original audio master tapes and stampers for the Jimi Hendrix Concerts Lp release CCSLP235
Consisting of 4 original mixed Master 10" Ampex tapes
Jimi Hendrix Live consisting of 4 original Master Stampers in original studio boxes & the original CD masters. All in original studio boxes and in excellent condition
The Jimi Hendrix Concerts is a posthumous live album by Jimi Hendrix released in August 1982. The album contains eleven songs from six different concerts between 1968 and 1970. The album spent eleven weeks in the UK Albums Chart peaking at No. 16The album was re-released on CD in 1989.
The collection is unmolested and been carefully stored for over 20 years
For enquiries or further information please contact a member of our team- info@tedowenandco.com or Ted Owen on +447900 825 898
Offers in the region of £12,000
Keith Richards' Bespoke Built Acoustic Guitar
Ted Owen & Co proudly present a unique opportunity to purchase a guitar owned and used by Rolling Stones lead guitarist Keith Richards.Luthier George Rizsanyi was commissioned to build this beautifully made guitar and it was presented to Richards on the 11th Novenmber 2001.
The guitar named as a Charlie Karp Custom is built with the following materials, Douglas fir top, spalted beach back and side, maple neck, Macassar ebony fretboard, bridge and rosette. Cherry burl pickguard, with spruce bracing.
If you require further information or would like to request details on the extensive provenance which includes legal documentation and statements from the relevant parties please email at info@tedowenandco.com
The guitar is available to purchase directly now. We are listening to offers around £50,000
Eric Clapton's 2006 Taylor T5 Custom Thinline,

Body consists of 'honey sunburst' finish, sapele body, spruce top with f-holes, twenty-one fret bound ebony fingerboard with 'artist' mother-of-pearl inlays, headstock with black facing, gold tuners, sapele neck, single lipstick pickup, three rotary controls, selector switch, ebony pin bridge; and a black Taylor mock crocodile hardshell contour case with black plush lining with handwritten label with various inscriptions
Serial No. 20060901515,
The guitar is available to purchase directly now. Asking price of £12,000
David Bowie Demo Tape
We are proud to have available an original reel to reel tape, formerly belonging to Mick Ronson that features previously unheard and unreleased demo's from around the Ziggy Stardust and the Spiders from Mars era.
The 71/2 tapes include a unique version of David Bowie's iconic song 'Starman'. Bowie is heard playing the guitar and singing the song to Mick Ronson and includes conversations between the two with Bowie explaining that 'the song still remains to be finished', suggesting that this was the first time the song was played to Ronson and likely the first example of the song being recorded. The excellent quality recording lasts approximately 4 minutes 30 seconds.
The tape also includes a demo 'Hang on to Yourself', a song used on the Ziggy Stardust album. This version is different to the known album version as it includes no over dubs and is more stripped down. Bowie also sings different words in the chorus, again suggesting that this is a track that was being developed at the time
Also heard on the tape are vocal warm ups and multi tracking tests as well as array of pieces of songs (hardly any in complete form) that were used for the album 'Ziggy Stardust' & 'Pin Ups'
Offers in the region of £14,000 This is a very collectable and important piece of musical heritage, any enquiries please contact info@tedowenandco.com
Sting/The Last Exit- Original 1975 Masters
We are proud to have available, 6 original masters circa 1975 one of one of Sting's earliest bands 'The Last Exit'. The tapes are all from Impulse studios Newcastle England. It includes a comprehensive track listing including the rare released track 'Whispering Voices' and many previously unheard songs
Titles include :Evensong,I Can't Say, Savage Beast, Whispering Voices, We Got Something, Truth Kills Everybody, Whispering Voices (ver 2), Put On Your Wings And Fly, Untitled Instrumental, Everyday's Just The Same, Carrion Prince, Don't Let It Bring You Down, I Got It Made, I'm On This Train, Oh! My Gawd, Instrumentals (2), I Can't Say (ver 2)
These masters are 8 Track Multitracks recording on 1" Magnetic Tape (SCOTCH 206 – 1", BASF LRG 30 P – 1"). All recordings have dedicated track information : Drum tracks, Bass, Guitar, Vocal, Keyboard (Organ), Electric Piano, Overdubs. All recordings were produced by David Wood at Impulse Sound Recording Studio in Wallsend, Tyne & Wear, United Kingdom (Incidentally.These were Sting's first recordings with the band LAST EXIT. Sting has acknowledged the opportunity he had creating these first recordings and thanked the company and producer for their indulgence).
The collection includes the DAT (Digital) Mixes of 9 of the tracks and a CD (same). There is also a 7" single (Whispering Voices c/w Evensong on WUDWINK LABEL : WUD001) (Juke Box version – rare) and an opportunity to make an offer for the famous NEWCASTLE BIG BAND LP (which features both STING and JOHN HEDLEY from Last Exit on all tracks) - IS.NBB.106
Special Issue Test Pressing signed by STING.
For more details please contact info@tedowenandco.com
Oasis/ Liam Gallagher's Zündapp Bella Scooter that was featured on the 'Be Here Now' album cover
Liam Gallagher's personally owned scooter. This very rare Zundapp Bella scooter was originally purchased by Liam Gallagher in March 1997 and later that year was used on the front cover of 'Be Here Now', Oasis's third album and became the UK's fastest-selling album. It went to the top of the UK chart and furnished two No. 1 singles 'D'You Know What I Mean' and 'All Around The World'. The scooter was also used in their music video 'Don't Go Away'
Registration no. 514 FMK, 200 cc, frame/engine no. 75481, mileage shown as 40951, red and black livery, together with a copy of the V5 registration certificate that shows Liam Gallagher as previous owner
The cover prompted much speculation as to possible meanings and messages but the photographer, Michael Spencer Johns, has been quoted as saying that it was simply a result of Noel Gallagher choosing a selection of items from the BBC prop store that he thought would look good in the image. It is possible that this scooter was included on Liam Gallagher's suggestion; the V5 certificate records him as the previous owner, having acquired the machine in April 1997, the time that the cover was shot at Stocks House in Hertfordshire. Apparently, the original concept had been to shoot each band member in a different location in the world but the costs would have proved excessive. The shoot was then relocated to the former home of Victor Lownes, head of the UK's Playboy Clubs.
Offers in the region of £15,000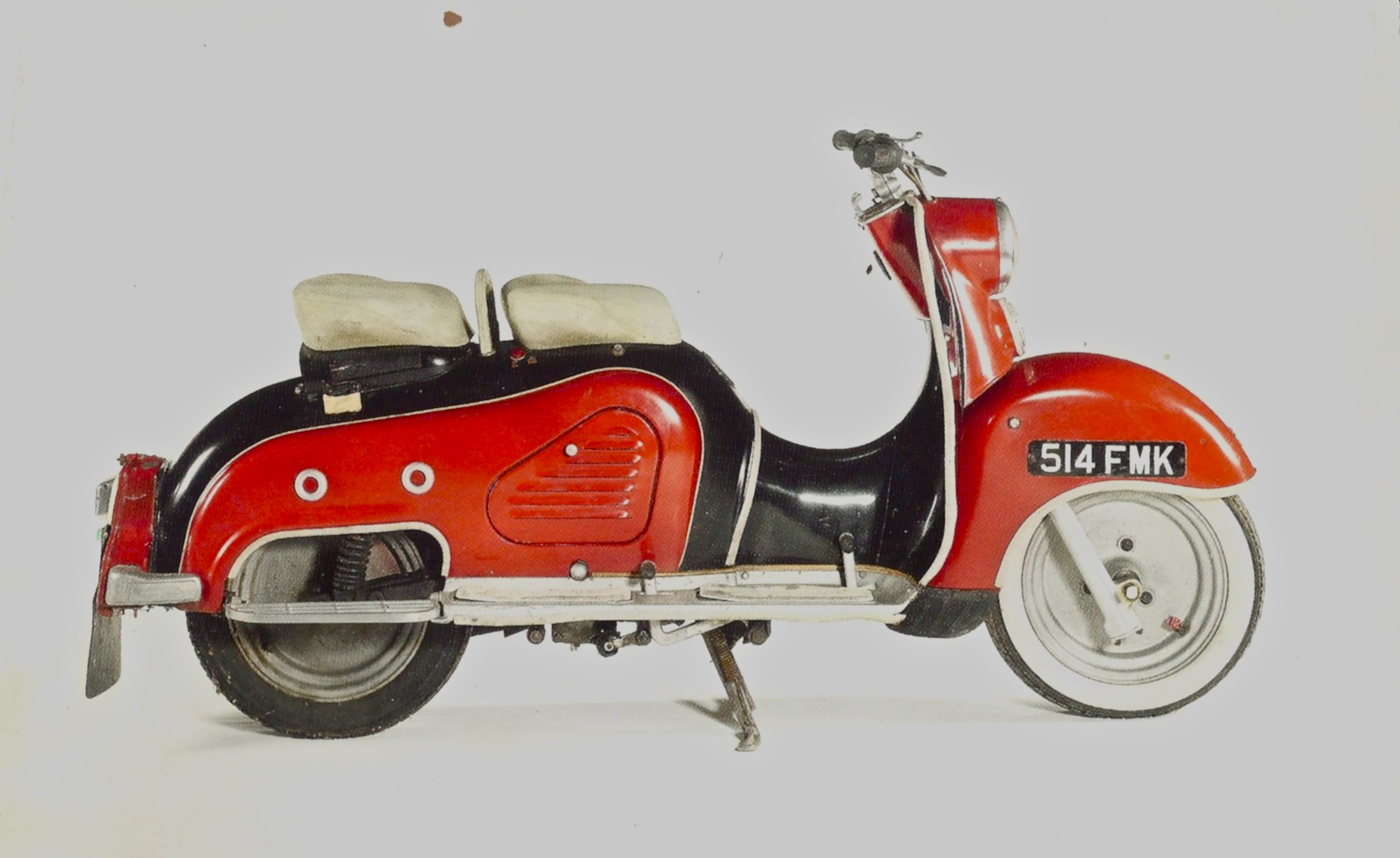 Alden/Harmony Stratotone Used & Played by Elvis Presley & Amplifier
A Harmony guitar & valve amplifier used and played by Elvis Presley during his Army years. A copper/bronze finished Alden Solid body electric guitar produced around 1958, owned by Elvis Presley (1935-1977) during his Army period. It is derived from the Harmony H44 Stratatone and has an "A" badge on the headstock. Comes complete with Elvis' Valve amplifier of the same era
The guitar is believed to have been gifted to Captain Betts, Elvis' commanding Officer. It is accompanied by unpublished photographs and a newspaper article relating to Elvis' visits to Betts' home in Germany. The photographs of images of Elvis playing piano and images of Elvis helping to erect a war memorial in Germany. Two of the photographs carry a stamp stating that they are for private use only and must not be published. Another photograph in this lot shows Elvis dressed in his army uniform with the guitar in Germany.
Accompanied by a signed letter of authentication from Walt Disney Attractions, Inc.
Offers in the region of £POA